A Poet in the Midst…
---
Meet Loganville Native Ruth Weiser. New to the Senior Commons Community is Ruth Weiser – a quirky, art-loving gal. Ruth has an interest in a variety of art forms, and has experienced working with different mediums throughout her life (Origami, sculpting, painting, and embroidery to name a few). With her poetry, Ruth uses words as her medium. As a teenager Ruth began writing poetry. She said she gets a strange and wonderful feeling as words flood through her. "I write almost the entire poem at once," Ruth said. "I am inspired by life around me." In a dark corner of your heart, find a dream and pull it out. Wipe off the dust and cobwebs, too polish it so it looks like new. Take your dream in your hand And walk about the land. Hold out your hand and let your dream go free. If it doesn't come back, then let it be But if it returns and wants to stay It will be yours for another day.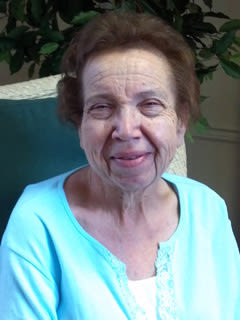 Resident Receives Military Quilt Honor
---
Senior Commons takes pride in being a residence for many inspiring people. Multitudes of former doctors, teachers, businessmen, and veterans (to name a few) line the halls. One veteran in particular, Philip Bentzel, was recognized in early March for his military service by receiving a Quilt of Valor from a friend. "It was overwhelming," Bentzel said. "It brought tears to my eyes." Bentzel's quilt has many handcrafted patches honoring his career. Currently residing in the apartments with his wife Gladys, Bentzel joined the Marine Corps in 1942 at the age of 22. Stationed on the U.S.S. Bland, his service included stints in Okinawa, Japan, and Guam. He stressed the fact that he enlisted and wasn't drafted. "I'm very proud to be a Marine," Bentzel said. "It was strict, but thorough training." Following his military retirement in 1946, Bentzel pursued a career as a machinist and toolmaker, spending 16 years working for Caterpillar. Thank you to Mr. Bentzel and all vets at Senior Commons for the sacrifices made to defend our country. Founded in 2003, QOV members have created more than 80,000 quilts free of charge. The foundation was originally started by Catherine Roberts, formerly of Seaford, Del., who had a son being deployed to Iraq as a gunner for his Humvee. For more information about Quilts of Valor, or to send in a quilt request, go to www.qovf.org.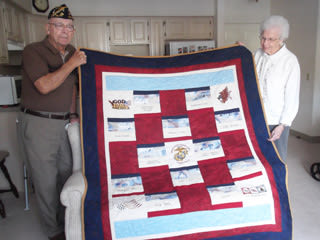 Coach™ Purse Bingo raises money for Alzheimer's Association
---
Senior Commons at Powder Mill and local community members recently came together in support of the Alzheimer's Association, and were able to raise $975 during a Coach™ Bingo event. On April 6, families, friends and members of the community came together for an afternoon of Bingo, with prizes of Coach™ purses. Soup, sandwiches and bakery items were also sold, benefiting the association. All proceeds from ticket sales and food items went to the Alzheimer's Association. "We are so grateful for everyone that came out to play and support the Alzheimer's Association," said Melissa Topper, executive director. "We are all very active in supporting the organization here in our community, with our own Memory Care neighborhoods to help those who have developed Alzheimer's or another form of dementia, as well as our specially-trained staff providing care in each of our memory care communities. Alzheimer's is uncontrollable and can be very difficult to deal with; we hope to continue our fundraising efforts with the help of the community and fight back to end this terrible disease." Senior Commons at Powder Mill is thrilled to have been able to raise money during this bingo event for such a great cause. They will continue their fundraising efforts throughout the rest of the year for the Alzheimer's Association, and will participate in the Alzheimer's Association 2013 Memory Walk in September.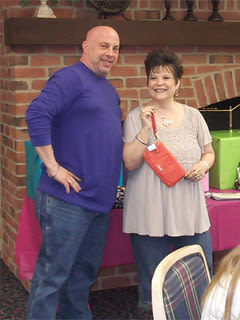 Computer Training for our Residents
---
Our residents got a hands-on experience with some new technology! Students from the Key Club at Palmyra High School are volunteering for computer training for our residents. They learned how to do different things on the computer, as well as using an iPad.